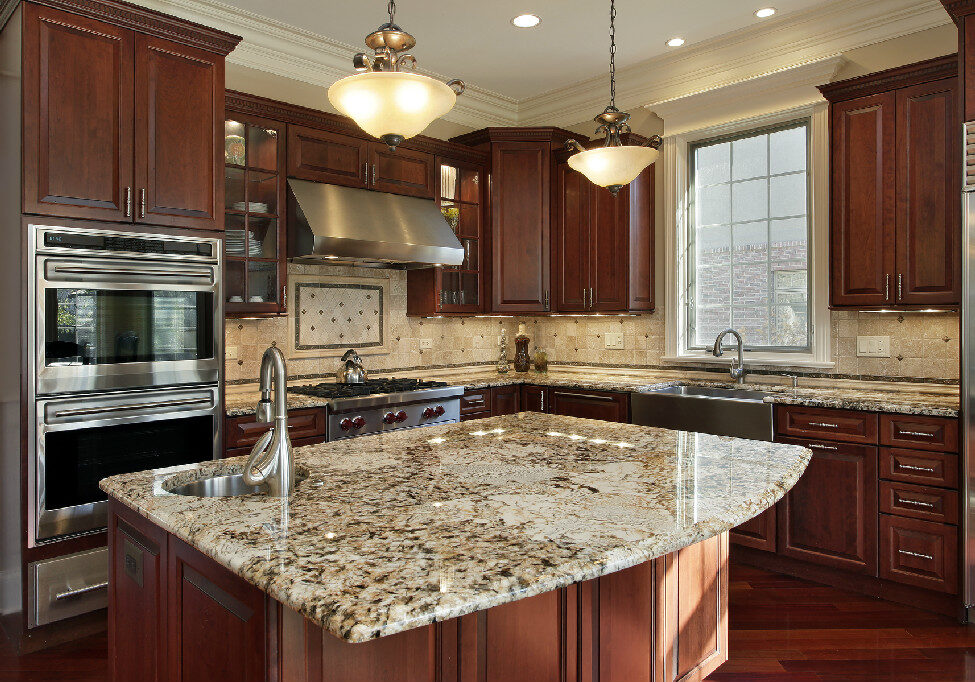 Renovation Features:
Stock, custom, and semi-custom cabinetry
Many options for countertops
Accurate measurements of your space
Decades of experience in kitchen renovations
A worry-free experience for our customers
Kitchen Renovation | Savannah GA
You've decided to take the plunge and renovate the outdated kitchen in your Savannah home, so now what do you do? Many homeowners who decide to undergo a kitchen renovation begin by picking out appliances, and others start looking through magazines for inspiring photos. While these are both good ideas, some homeowners who decide on a kitchen renovation Savannah GA remain stuck in this exploratory stage for years before getting the help they need. Whether you need more room for your growing family or simply want to upgrade an outdated look, Pro Renovations has the knowledge and expertise you need to get the job done right. So, let's go through the kitchen renovation process and get the ball rolling on creating the kitchen of your dreams.
Consider Your Needs
Before you begin looking at cabinets and fixtures, we recommend every homeowner think about how they use their kitchen in order to design the right layout and pick the perfect features for their lifestyle. During this stage, you should ask yourself the following questions:
How many people are expected to regularly gather and cook in the kitchen
Do you need additional kitchen space, or does the existing footprint work for you?
After answering these questions, now it's time to move on to the design phase and begin exploring ideas from magazines, books, kitchen showrooms, and the experienced kitchen design pros at Pro Renovations Together, we'll create the right plan for you and your home and successfully begin the kitchen renovation process.
We Offer a Wide Selection of Cabinetry
Cabinetry is usually the largest expense for a kitchen renovation Savannah GA, so it makes perfect sense to begin your kitchen renovation planning by picking out cabinets. Whether you decide on stock, custom, or semi-custom cabinets, we take accurate measurements ahead of time. This ensures your new cabinets are ready to go in the same day your old ones are removed. Within a couple of days, you'll have beautiful new cabinets in place and ready for the countertop installation.
We Can Reface Your Existing Cabinetry
If you like the existing cabinet boxes or want to keep spending to a minimum, then a simple re-facing may be an option. When re-facing cabinets, we remove your existing drawer fronts, doors, hinges, and hardware before sanding the cabinet exteriors and preparing them for new veneer or laminate. After applying the laminate or veneer of your choice, the new hardware, hinges, drawer fronts, and doors are installed. Updates like decorative end panels, roll out shelves, and crown molding can also be added to take your kitchen up a notch.
We Have Many Countertop Options to Choose From
After cabinets come the countertops. Today, there's a dizzying array of countertop options covering a wide variety of styles and materials. However, whether you opt for quartz, granite, or another solid-surface countertop, the process is surprisingly similar. First, we'll measure the countertop spaces in your kitchen to ensure they're a perfect fit. Then, we'll draw up a template and begin your countertop fabrication. Within one week, we'll be back at your home and ready to install your new custom countertops. At Pro Renovations, we have decades of combined experience in planning and executing a wide variety of successful kitchen renovations. We'll guide you through the process every step of the way and ensure you end up with the kitchen you've always envisioned.
Your Dream Kitchen Will Become a Reality
While they make the biggest statement and the bulk of any kitchen renovation budget, there's much more to a kitchen remodel than installing new countertops and cabinetry. There are so many other factors to consider that really bring your kitchen together and allow your personality to shine through. The windows, flooring, backsplash, lighting, paint – all of these can be personalized to your taste. Each product you choose has a specific lead time and must be ordered at different times. Plus, there are blueprints, permits, and various subcontractors to manage. Planning and managing a kitchen renovation Savannah GA is a complex process. With so much to consider, planning your own kitchen renovation can seem like an impossible task. Fortunately, you don't have to go at it alone. With your experts' knowledge and expertise on your side, Pro Renovations will make the process seem like a piece of cake as you watch us transform your boring, outdated space into the kitchen of your dreams!
Call us today and let's make it happen!